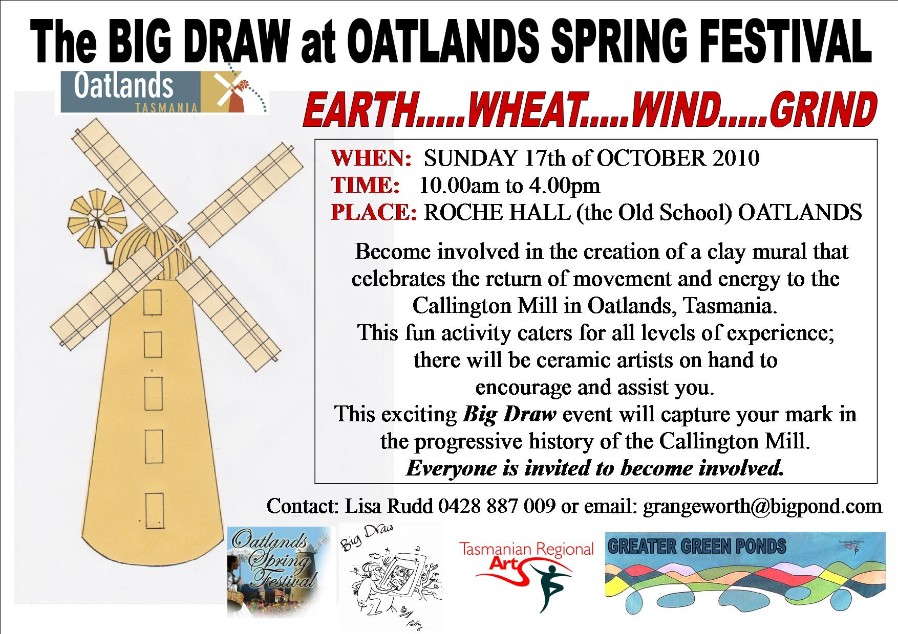 Oatlands Big Draw 2010 Registration
First Name: Lisa
Last Name: Rudd
Organisations:
Oatlands Spring Festival
Greater Green Ponds Branch of Tasmanian Regional Art
Access Art; Tasmanian Museum and Art Gallery
Tasmanian Ceramics Association
Role in organisation: Artist, Member and Volunteer
Phone number: 0428 887 009
email: grangeworth@bigpond.com
Address:
Suburb/Town: BAGDAD
Postcode: 7030
State: Tasmania
Event Title: EARTH.....WHEAT.....WIND.....GRIND………
Location of proposed event: Roche Hall - Corner of High Street and Stutzer Streets at the Spring Festival, Oatlands Tasmania
Description of proposed event:
EARTH…..WHEAT…..WIND…..GRIND………revolves around the organic processes and significant place where the Earth's energy is embraced and focused on the creation of sustenance.
For over 117 years the iconic Callington Mill in Oatlands Tasmania has waited silently, expectantly, patiently to again be utilised to the benefit of its surrounding communities.
To celebrate the return of movement and energy to the Callington Mill in Oatlands, Tasmania, we will draw on a natural, earthy, clay mural that will capture our marks in the progressive history of this significant site.
Date of proposed event: 17th October 2010
Time of event: 10am to 4.00pm
Audience: (please circle) all, adults, young adults, children, families, teachers,
Cost: Gold Coin Donation (that will contribute to the costs of completing the clay artwork).
Web address via: http://www.lisarudd.com/