"I AM PASSIONATE ABOUT UTILISING THE ARTS
TO BRING PEOPLE TOGETHER AND WILL DRAW
ON MY LEARNING AND NETWORKS FROM THE
TASMANIAN LEADERS PROGRAM TO SUPPORT
FUTURE COMMUNITY-BASED ENDEAVOURS."
Lisa Rudd December 2012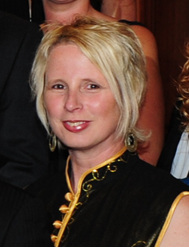 Lisa Rudd spent her childhood in rural Victoria, considering herself fortunate to experience the benefits of a supportive family, school and community. Lisa, frustrated by not gaining the opportunity to study drama at University, relocated to Melbourne in the mid-1980's to undertake private acting lessons. This period saw Lisa spend her time working as a struggling actress and exploring life's offerings. Lisa's core strength is the experience and insight gained from her diverse career path: houseparent at an autistic centre; police officer company director, mother, artist, antique dealer, project manager and many more. In 2004 Berry Street Victoria provided Lisa with the opportunity to work in the area of community development. This is where Lisa found her niche. This opportunity led to Lisa spending 2009 supporting the residents of the Shire of Murrindindi as they faced the devastation of the Black Saturday Bushfires. Subsequently, the family moved to Tasmania and in 2011 Lisa commenced in the role of Leader of Community Development with Brighton Council, Jordan River Learning Federation and Colony 47.

I found my involvement with Tasmanian Leaders Program to be an inspiring learning experience, one that has encouraged and nurtured my personal and professional growth. The program's content has made me recognise my capacity as a leader, providing me with the skills, networks and confidence to step up, and out, as a leader. It has stimulated my sense of connection to people and place, and I am proud to be a new Tasmanian and have the opportunity to realise the potential of this inspiring island. The program has raised my awareness of emerging issues and trends, and I am grateful for the opportunity to share my knowledge of community cultural development with fellow participants. The highlights were the varied opportunities for self-exploration and self-expression that provided stepping stones to identify positive life and career pathways.

I have always leveraged my networks to benefit my work and volunteer roles. The program has provided me with a comprehensive network of inspiring Tasmanians that I can engage with. It has affirmed my belief that innovative approaches to community-based economic development are integral for sustainability in regional Tasmania. Additionally, I have realised that the potential for arts and tourism in regional communities will require cohesive and strategic leadership that incorporates an asset-based community development approach, utilising 'grassroots' to strengthen the collaboration of these industries to create positive economic and social benefits for local communities. I am passionate about utilising the arts to bring people together and will draw on my learning and networks from the program to support future community-based endeavours.