Lisa Rudd is a is a partnership broker with Colony 47; her work focuses on community and partnership development that leads to positive outcomes for young people in the areas of study, training and employment.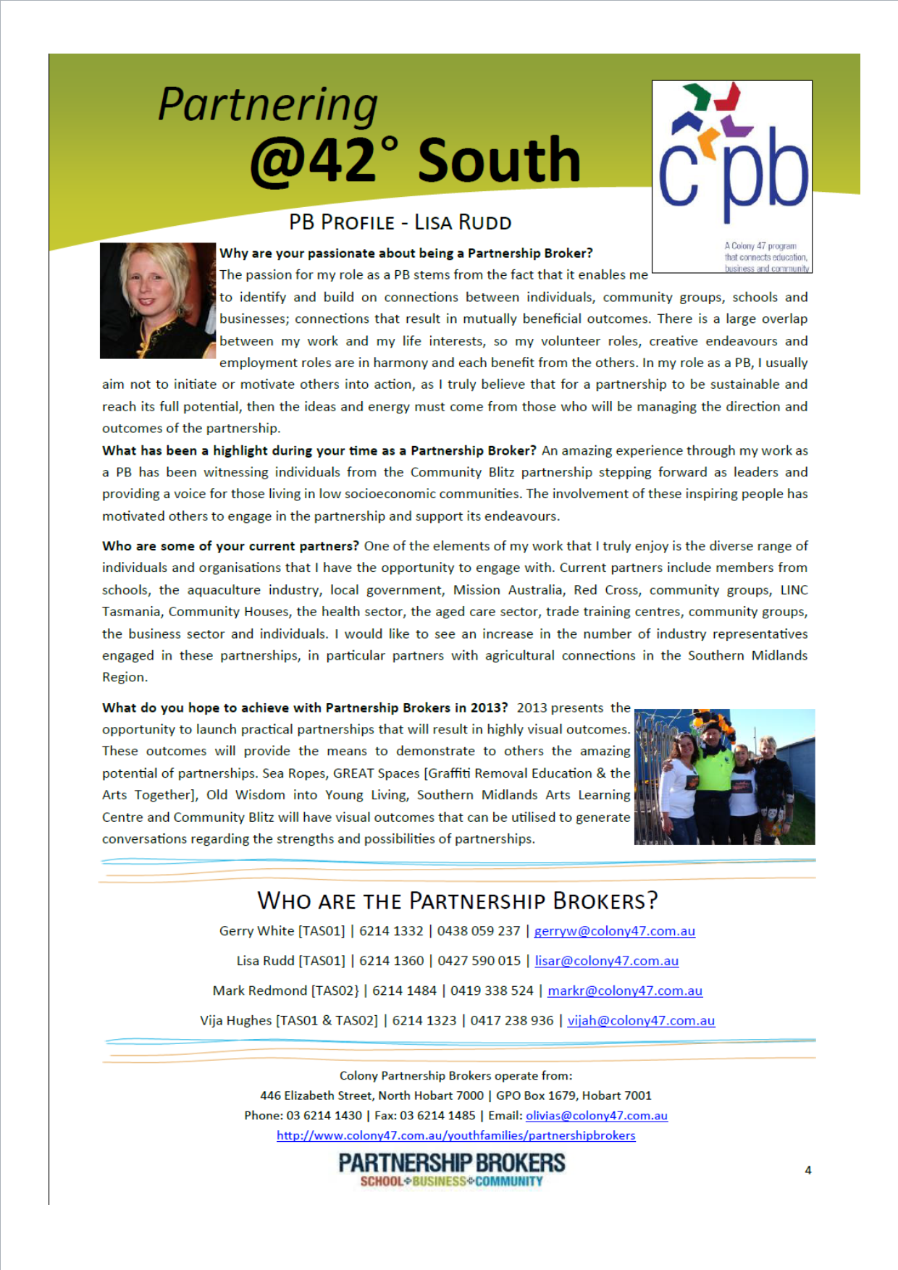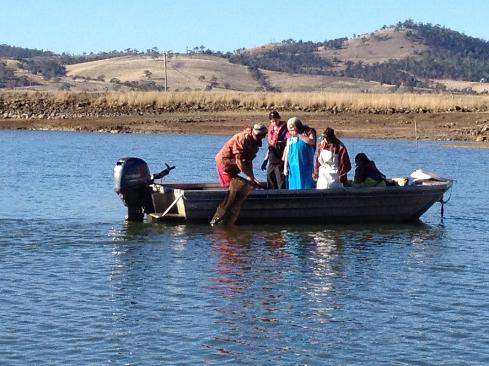 SEA ROPES: Eel Excursion May 2013
In thick fog students and teachers from the Jordan River Learning Federation, accompanied by Colony Partnership Broker Lisa Rudd, set off for Richmond on the inaugural SEA ROPES excursion. On reaching the large dam at Acton Park everyone was pleased to see the sun and meet Aidan McClure from Seafood Industry Partnerships in Schools (SIPS) and Shaun Finlayson from Highland Pacific Export. It was the perfect day for eel fishing.
Students were quickly engaged in the history and facts surrounding eel fishing as Shaun explained the industry and his company's involvement. Students and teachers asked many questions as no one in the group was familiar with eel fishing. It was interesting to learn that the Short Finned Eels of southern Tasmania are shipped live to Asia where they are braised whilst the eels destined for Europe are frozen so that they can then be smoked.

All the students and teachers then assisted Shaun by boarding his boat and raising the nets that had been set two days prior. The month of May is close to the end of eel season, as eel hibernate from June through to August, but the students were lucky enough to have fishing success as they pulled in net after net containing eels, Red Fin and Tench. The students were all engaged in the activities and one was heard to enquire as to the potential of gaining employment in the industry. It was inspiring to see the students going from not being willing to handle the eel (they do have Velcro like teeth) to expertly picking them up as they sorted the smaller ones for release from those suitable for exporting.

SEA ROPES appreciate the time and effort Shaun contributed to the outing; his rapport and engagements with the students ensured an enjoyable and interesting day for all involved.

This excursion provided the opportunity for the partnership broker to liaise with partners and students to identify future outcomes for the SEA ROPES partnership. The aim of SEA ROPES is to utilise the environment and the arts to introduce students to employment opportunities within the aquaculture industry. The next initiative is going to be an overnight trip to Bruny Island to undertake a beach clean up and hopefully visit Tassal and Get Shucked oysters. SEA ROPES is looking for a corporate sponsor or funding to make this trip a reality for the students of Jordan River Learning Federation.
For more information please contact Lisa Rudd at lisar@colony47.com.au or phone 0427 590 015